Matt's summer feasting hamper
Find out more about the incredible products in this hamper below
A hamper filled with treats to cook either outside or in the kitchen, enough for a big party or a weekend of food for the whole family.
With top restaurant quality meats and some truly superb accompaniments.
Get out the BBQ and treat your friends and family to a memorable dinner!
Filled with the finest ingredients from our friends in the industry, sauces from the fantastic Bar 44, top ingredients from Freddy Bird and David Menendez, and stunning meats from Alex at the Salcombe meat company.

£160.00

inc DHL Delivery
Hurry, less than 70 remaining!
Order by Sunday 25th July
We then order direct with the farmers, fishermen and producers. The restaurant quality ingredients are then picked/ caught at their freshest and sent straight to you in one of our insulated 'woolcool' boxes to arrive on Friday 30th July
What's Included in the Hamper
Tomahawk steak
"For the mighty Tomahawk steak, season well both sides and oil lightly. put onto a hot bbq grill or into a very hot pan. Leave it alone for around 10 minutes to form a good crust on the meat. Don't be tempted to keep moving it around! Turn over and repeat. The whole thing should be cooked rare in around 25 minutes. Rest with 3-4 slices of the truffle butter over the top to melt. Spoon the juices back over the beef. " Matt
The ultimate feast for the steak fanatic, beautifully marbled and oozing with flavour this steak perfect to share or just have a go yourself….

Sublime Flavoured Butter No.12 - Truffle, Parmesan & Black Pepper
Lightly salted butter produced in Somerset married with truffle oil, parmesan and black pepper.

Butterflied lamb shoulder
"For the lamb, rub the harissa into the meat, using the whole jar. The more you massage it and the longer you leave it to marinate the better. However if time is of the essence, there's enough power in this Harrissa to supercharge the meat. Heat a bbq grill or large pan and throw the meat in skin side down to colour well.....this will take around 8-10 minutes. Turn the meat over and repeat. Cook in a preheated hot oven around 200C to finish...,usually around 10-15 minutes depending on how pink you like it. Very important you let the meat rest for at least half the cooking time and catch any juices that collect to spoon over the finished dish." Matt
Devon lamb shoulder, butterflied and ready for the BBQ, just add your favourite marinade or herbs

Belazu Rose Harissa
Our Rose Harissa has a slow-burning chilli heat, balanced with sweet smokiness that adds real depth of flavour to any dish. It is one of our signature ingredients and bestsellers, having been developed from a secret recipe back in 1995.
The name Harissa comes from the Arabic harasa, meaning 'to pound' or 'break into pieces'. It is not far from a straight translation of the Italian pestare, to 'pound' or 'crush' - which is where we get the word 'pesto' from.

Spatchcock Whole Free Range Creedy Carver Chicken
"The chicken is simple, cut a few slashes in the breasts and the legs, rub the jar of .......marinade, included in the box all over, front and back and put it into a hot oven, again around 200C or higher or on the bbq for around 45 minutes. Allow to rest for 20 minutes and collect any juices, spooning back over the bird." Matt
Perfect for those awesome BBQ's or simply popped in the oven , succulent and full of flavour and don't forget the crispy skin.
All our chicken comes from Creedy Carver based just outside Exeter, a real quality local company

Seville Green Mojo Picón Salsa, ORGANIC,100% NATURAL & VEGAN.
This spicy salsa is made from organic herbs and green chilies, it is perfect for any poultry fish or seafood meal. Additionally, great as an accompaniment for any vegetable or rice dish.

6oz Dexter beef burger ( x 6)
"Any of the other salad ingredients, like the onions can be grilled or roasted in a little oil and salt in a pan and served with the burgers, chopped pickled chillis and sliced cornichons ....and don't forget to flash the burgers under a hot grill to melt a generous quality of the delicious Melting Manchego" Matt
Our Award winning Dexter beef burgers are perfect for your Summer BBQs.

Gomez Moreno Manchego Cheese DOP, semicured, unpasteurised
A well-balanced Manchego with a complex flavour profile that includes nutty notes and a woody aroma. This is perfect to serve with a glass of hearty red wine after supper, or equally can be paired with good crusty bread or 'picos' to make an excellent appetiser. If you are feeling more adventurous, we recommend pairing with walnuts and honey for something truly delicious.
1st Position Manchego Award Expovicaman 2015.
Silver Medal World Cheese Awards 2013.
Silver Medal Word Cheese Awards 2008.

Gherkins on olive oil
Maestros Aceituneros is a company that, since its foundation in 1960 ,wanted to make the best olives and pickles, recovering traditional flavours respecting the environment and the
heritage of this ancestral industry . They produce quality table olives and pickles from the best harvests following local recipes of their olive masters.
About the product: Crunchy texture with an enticing subtle vinegary after taste

Basque Guindillas chillis (piparras)
Maestros Aceitunerosisa company that, since its foundation in 1960, wanted to make the best olives and pickles, recovering traditional flavours respecting the environment and the heritage of this ancestral industry. They produce quality table olives and pickles from the best harvests following local recipes of their olive masters.
About the product: Delicious"Piparra" Chillispickled in wine vinegar with a touch of EVOO, following a traditional recipe from La Rioja. Full of flavour, slightly spicy

brioche rolls ( x 6)
A free range egg and pure butter glazed brioche bun topped with golden linseeds. Just right for those gourmet burgers.

Merguez sausages ( x 12)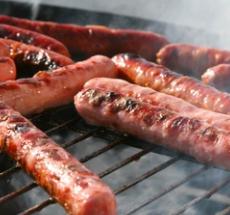 "For the merguez sausages, ideally grill to give great colour and flavour, but again this can be also done in a very hot dry pan. There's a lot of spicy oils in these so pour this off to make a dressing with later. Turn them from time to time to colour all over, but they're only thin so won't take longer than 10 minutes total. When ready to serve, slice a few times and toss them with the roasted peppers, included with the box. If you want you can mix some of the cooking oils with a little mustard ( Dijon if you have it) , vinegar, and salt and drizzle over the dish." Matt
Traditional merguez sausages made from devon lamb and spices

Caramelised Red Spanish Peppers......
These delicious peppers have been charcoal grilled before being peeled and marinated in muscatel wine and olive oil. They have an amazing flavour smoky sweet flavour with a delicate floral edge from the muscatel wine. They make a delicious accompaniment to any meat or fish dish. Alternatively, slice and stir through a salad to bring a delicious fresh taste of the Mediterranean

Hand cut chips
"To prepare the chips, either blanch them for 8-10 minutes in a deep fat fryer around 120C or put them into a big pan of cold salted water and treat as roast potatoes .....that being, bring them up to a boil, turn the heat off, let them sit for a few minutes then drain. Spread on a tray to cool before tossing in seasoning and roasting in a hot oil in a very hot oven...around 220c until crisp and golden. Sprinkle liberally with salt and squeeze both the sherry aioli and spicy tomato sauce over the top. Eat immediately!! " Matt
Our hand cut chips ae made from the finest chipping potatoes and are ready to blanch and fry or roast

Bar 44 Sherry aioli
"This a superb Aioli served By our friends at Bar44" Tom
Ali Oli is a Mediterranean Spanish sauce whose main ingredients are garlic(Ali) and olive oil(Oli).
We love this BAR44 Tapas y Copas version with a twist. A hint of Pedro Ximenez Sherry vinegar and Sherry wine makes it epic!
Fantastic as a dip or to accompany any meal

Bar 44 Bravas sauce
"Another Bar44 classic, perfect with crispy potatoes" Tom
Salsa Brava is a spicy tomato sauce served with fried potatoes found in any Tapas Bar across Spain .We love this version of BAR44 Tapas y Copas, part of the winning dish at London's "Battle of the Bravas." it has just the perfect spiciness.
Perfect to accompany any meal!

Red and white spring onions from Pips farm
Red and white salad onions grown in south Devon by Neil at Pips farm, perfect charred on the bbq or raw in salad.

Menendez and Bird extra virgin olive oil 1ltr
"Blended by the amazing Freddy Bird and the fantastic David Menendez, this oil is a winner" Tom
Menendez & Bird is the perfect blend of Picual, Arbequina and Hoji blanca olives, harvested in November, to create this extraordinary EVOO.
About the product: well balanced with aromas of apple and slight bitterness of radicchio and pepper on the palate. Versatile extra virgin olive oil ideal to finish vegetables, salads, meats or fish dishes.

O-Med Vinegar, 250ml, glass bottle
Perfect for drizzling and cooking, We suggest you use this vinegar to in all your salads!

Italian peaches ( x 4)
"We suggest you make a salad from the lettuce, sliced peaches, oil and vinegar for a refreshing side dish " Matt
Italian peaches, perfect served raw or chargrilled in salads

Radicchio
Radicchio has a fantastic crunch and bitter sweet flavour